Level 3 ~ Advanced Care
(Ambulatory and Non-Ambulatory, Post Operative, Hospice)
Assistance with Activities of Daily Living
Transferring
Skin Care and Positioning
Personal Hygiene
Incontinence Care
Bed Baths
Meal Preparation/Cooking & Cleaning Up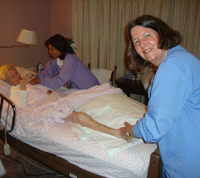 Advanced Care Support Team

Special Assignments
Weekly Drop-in Visits
(45 minutes to 1 hour)
Rise & Shine (2-hour visit)
Includes a welcoming wake up call and assistance with morning routines including personal care, bathing, grooming & dressing, bed-making and breakfast preparation.
Sweet Dreams (2-hour visit)
Includes dinner clean up, assisting with personal care, showering, bed time preparation & our special turn down service.
Drivers (2 hours)
Includes out and about companion escorting to and from medical appointments, shopping, errands, religious services, help with airport tasks, drop off/pick up dry cleaning, or any other activities.
All Services include:
Caregiver Salaries
Liability Insurance
Workers Compensation Insurance
Federal & State Tax Deductions
Non-Owned Auto Insurance Coverage for the security of our Clients and Staff